As a staff member at Ivy Tech, you can play an important role in our communities. You will have an impact on every student, faculty member, and colleague you encounter as you contribute to the excellence of our environment. We're a great place for a full-time career, as well as an excellent opportunity to supplement your income with a part-time position. Either way, you'll know you are making a difference in many lives and helping us ensure outstanding education across Indiana.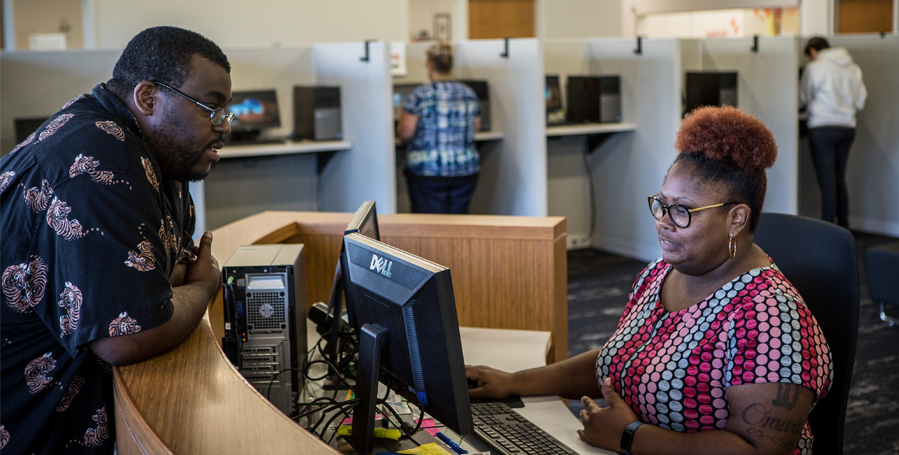 A Special Environment
The atmosphere on an Ivy Tech campus is truly special. You'll share your skills in an energetic environment where you are surrounded by knowledgeable faculty and enthusiastic students. Our team members say this makes each day different and rewarding.
Team-Oriented Culture
Collaboration and a team atmosphere are the hallmarks of our culture. All departments work together as part of a team dedicated to student success, and everyone's contribution and ideas are valued and welcome.
Excellent Benefits
As part of our outstanding benefits package, we offer a great work-life balance and plenty of PTO. You'll also enjoy opportunities for talent development, with multiple programs and fee remission for courses at Ivy Tech.
Many Areas of Opportunity
To support our students, we offer a number of career areas where your expertise is welcome. Whether you are leading strategy initiatives, helping our programs run more effectively, providing a vital service, or keeping our campuses clean, safe, and welcoming, you will enjoy an atmosphere of respect and support. Here are just a few departments to consider:
Academic Affairs
Administrative Support
Facilities
Finance
Human Resources
Information Technology
Public Safety and Emergency Preparedness
Student Services
Tutoring/Proctoring